Mary Wagner of Digital Commerce 360 interviews RealDecoy's Richard Isaac on how data and content drive B2B sales online
When respected industry editorial director Mary Wagner of Digital Commerce 360 first interviewed RealDecoy CEO Richard Isaac, the inaugural B2B Next event was still a few months away.
Now that B2B Next is upon us—and with Richard running a B2B Next workshop in Chicago on September 26, this interview is once again both timely and relevant.
From an online article on DigitalCommerce360.com, here are highlights from the Chicago-based writer's interview with the Ottawa-based B2B expert:
CEO Richard Isaac leads a hands-on workshop at B2B Next
B2B Next speaker Richard Isaac, co-founder and CEO of RealDecoy Consulting, says data and content offer a big opportunity for B2B sellers to improve the online customer experience and sales.
Business-to-business sellers face the same hurdles business-to-consumer sellers do in serving up the online experience buyers expect—squared. But the diversity on the B2B side of product and pricing, along with a more complex purchasing process, take such challenges as search relevancy and personalization to a whole new level.
A unique B2B event offering practical guidance
The real-world learnings of B2B sellers tackling these and other challenges daily—and an industry-wide perspective on solutions—provide the kind of practical guidance that defines the workshops at B2B Next.
This first-ever B2B conference and exhibition, to be held in Chicago Sept. 24-26, represents a new partnership between leading B2B e-commerce expert Andy Hoar, formerly of Forrester Research Inc. and now head of his own B2B consulting firm; and Vertical Web Media, founders of the Internet Retailer Conference & Exhibition, the world's largest e-commerce event.
How data and content drive B2B sales online
One of four interactive workshops at B2B Next, "Make Your Content Come Alive and Your Data Dance," will focus on managing data and content to optimize the B2B online buyer experience.
The goal: generate as many takeaways as possible for attendees to consider for their own B2B e-commerce business.
Workshop leader Richard Isaac, RealDecoy's chief executive officer and co-founder, will provide an overview of industry developments, best practices and the core questions B2B online sellers must address. Workshop attendees will share their own experience in small-group discussions at moderated roundtables.
Recently, B2BecNews caught up with Isaac for an expert's view on how to use data and content to boost loyalty and sales among B2B online customers.
An expert's view
Q: What is your most valuable piece of advice for B2B companies looking to add online sales or increase them?
Isaac: The unsung hero in many cases is customer intent—this is the area to exploit for a competitive advantage, using qualitative and quantitative research.
Then, the most valuable thing you can do is adopt a customer-centric mindset and prioritize projects that improve ease of transaction.
Finally, be careful of how much you bite off at once. Smaller, iterative and agile projects provide better ROI than larger, year-long projects.
Q: What is driving B2B companies to expand online?
Isaac: Customer loyalty. Loyalty in B2B is primarily driven by how easy it is for people to transact with you.
B2B buyers consistently rank "better self-service" at the top of their wish lists when working with B2B vendors. Simplifying the online purchase experience will help B2B sellers recover lost revenue and discover new revenue opportunities.
Today's online buyers simply expect to find all the information they want for products on a company's website.
Q: What are the biggest challenges they face? 
Isaac: Complex product catalogs and pricing.
B2B companies are unique in that they have very large, complex catalogs and pricing models that are often supported by an antiquated homegrown system.
Today's online buyers simply expect to find all the information they want for products on a company's website, including the pricing they are eligible for.
For manufacturers, one of the top challenges is continuing to build loyalty with distributors and resellers while experimenting with selling direct to customers for the first time.
Q: What are the biggest gains they are realizing?
Isaac: Those who are investing properly are simplifying how buyers do business with them, improving the self-serve experience and creating more loyalty.
Q: What is the biggest thing B2B companies still need to realize about e-commerce?
Isaac: Even companies doing many of the right things—offering search relevancy, seasonal promotions, boosting and burying results (which are not examples of personalization, by the way)—are often just scratching the surface when it comes to personalizing customer experiences.
--
Read this article in its original entirety at digitalcommerce.com.
Learn more about B2B Next in Chicago from Sept. 24-26, 2018 at B2BNext.net.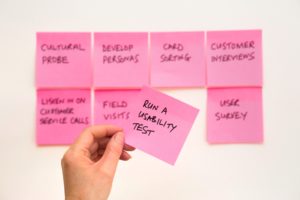 The University of Technology has partnered with international digital agency RealDecoy to give students a hands-on introduction into the world of user experience design.
Read More