Site Search
Deliver personalized site search experiences.
Drive more conversions.
RealDecoy maximizes site search ROI with services proven to increase revenue and lower costs.
Choose a service provider with proven expertise






RealDecoy maximizes site search ROI with services proven to increase revenue and lower costs.
You're under pressure to innovate and drive conversions. Site design, mobile, omnichannel, personalization and customer insight are among your customer experience priorities.
Forrester says tactical improvements in site search often have the most impact on customer experience (CX). Why? Intuitive and personalized site search connects more loyal customers to more product content – on your website, and as part of your broader CX agenda.
The cost of poor site search
There's one undeniable fact you can't ignore: a generic and unintuitive site-search experience costs you.
The good news is, there are many incremental improvements you can make to site search. Together, these enhancements offer a transformational conversion opportunity.
Why improve your site search experience?
Increase conversions, average order values, and customer loyalty, no matter which screen.
Reduce operational expenses and the cost to serve customers.
Personalize search results so customers see only what is relevant.
Find opportunities for merchandizing, cross-selling, and up-selling.
Manage complex data sources and search taxonomies, multiple languages, and currencies.
What makes a world-class site search experience?
Choose a service provider with proven expertise
E-commerce analysts and companies topping the Fortune and Internet Retailer lists consider RealDecoy to be an authority on driving conversions through site search.
Guess, Harvard Business Publishing, The Home Depot, Lands' End, Office Depot, and Samsung are among the many brands personalizing site search experiences thanks to engagements with RealDecoy.
What can RealDecoy do for you?
Brands looking to drive business goals turn to RealDecoy for specialized services in site search.
We'll help you drive profit through boosting revenue and lowering operational expenses.
Site Search Experience
Personalize your customers' site search experience so visitors find the products they're looking for, discover products they didn't know they needed, and return to purchase more often.
Planning & Implementation Services
Technology Selection
Assessing commercial and open source technology options. Recommending the best fit to meet business and technical requirements that drive the most ROI. We don't accept commissions from software vendors – you'll get the platform that's best for you.
Quality Assurance
Dissecting code and diagnosing the way your site search platform is implemented to reduce risk and ensure conversions.
UX Strategy
Advising on user interaction and design, including persona-based search relevancy strategies and business user toolsets, to ensure your customer-facing search application achieves your business requirements.
Internationalization Planning
Consulting on IT assets, datasets, and training requirements to deliver site search experience at scale in multiple languages, currencies, and cultures.
Upgrading
Replacing or upgrading your homegrown or unsupported legacy application with a site search platform that helps your business gain a competitive edge.
Integration
Integrating a conversion-driving site search application with your existing commerce system in manageable phases.
Site Search Optimization
Site Search Health Check
Get a free, 10-point inspection of your site search experience. It includes a prioritized roadmap that explains where you're losing money; how to achieve incremental improvements; and the time to ROI for each proposed improvement.
Search Relevancy Tuning
Tuning your relevancy algorithm so it returns the best search results to a visitor's query. This is the single most important maintenance activity a business team can do to increase conversions and average order value.
Personalization
Creating powerful business rules and relevancy controls that enable your business users to target customer segments with the most relevant products.
Training
Training and customized courses give your teams the expertise they need to continually maximize your investment in site search.
Advanced Features
Adding and enhancing search and merchandizing features for your:
search box, e.g. type-ahead, auto spell correction, thesaurus entries, drop-down merchandizing menu.
faceted search, e.g. boost 'n' bury product categories and attributes that drive the most conversions, add range sliders to filter prices, dates, etc.
merchandizing, e.g. you might also like, customers also bought.
Customer Insights
Mining, interpreting, and reporting unexpected insights from site search data. Get an intimate understanding of your visitors that enables a truly personalized digital customer experience.
Product Content Management
Structuring product content for a customer's point of view ensures your site visitors have a fast and frictionless product-finding experience, driving revenue and saving you money with fewer contacts per order.
Product Categorization
Architecture
Defining, structuring, and labeling product attributes and categories so they're intuitive to customers and internal teams, and reflective of your most current catalog.
Hierarchy
Transforming your existing product attributes and search taxonomy into a logical, hierarchical structure that guides customers to a point of sale both on-site and from external search engines (SEO).
Internationalization
Optimizing product attributes and categories for multiple languages, sites, brands, currencies, and seasons.
Product Data Quality
Enrichment
Updating product data with new sources of relevant information, including product reviews and comparable products. Adding product attributes for more effective and granular levels of searching and filtering.
Editing & Cleansing
Rewriting product names and descriptions so they're accurate, compelling, optimized for SEO, and intuitive to your visitors. Removing duplicate and inaccurate data.
Image & Asset Consulting
Pinpointing which product images and digital assets (e.g., PDFs, fact sheets) can drive the most conversions.
Standardization & Normalization
Designing a consistent product information flow that helps customers make fast and informed purchase decisions. Standardizing product fields, specifications, and units of measure to help visitors find, assess, and compare products in and outside your catalog.
Training
Teaching your internal resources to add, update, and cleanse data in a way that works seamlessly with the existing structure and experience.
Businesses like yours trust RealDecoy
See how we helped:
Our case studies will show you what we can do. See how we helped:
A B2B e-commerce portal with 100,000+ products replace a homegrown e-commerce system, exceeding active users by more than double the target.
A $13B B2C/B2B retailer migrate from a legacy Endeca implementation to a highly-personalized Oracle Commerce buying experience in under 6 months.
and more!
Read more RealDecoy client success stories
Choose, update, or enhance your site search technology
Get strong, in-house expertise spanning the most powerful search technologies including Oracle Commerce Guided Search and Experience Manager (Endeca), Solr, and BloomReach.
Which search platform is right for you?
Endeca
Note: Endeca is now called Oracle Commerce Guided Search and Experience Manager
Top B2B and B2C companies rely on Endeca technology because it's renowned for powering personalized online buying experiences. Intuitive tooling and the ability to create powerful merchandizing rules are among the many benefits for business users. Customers consistently get relevant product search experiences that scale across channels. RealDecoy is the world's #1 Endeca authority with over 200 implementations – more than anyone else in North America.
Find out if Endeca is right for your business:
Solr
Solr is the most popular site search platform in the world. It powers the search and navigation features of many of the world's largest websites. It's a fast, open source enterprise search platform that is highly reliable, scalable, and fault tolerant. Powerful extensions and the ability to change any code you want means your installation can be customized to your exact business needs.
Find out if Solr is right for your business:
BloomReach
BloomReach harnesses the power of big data, machine learning and large-scale systems science to match relevant products to consumers at scale. Independent tests prove that BloomReach Commerce Search ensures: 90% less operational effort to optimize search results; 34% more mobile search revenue; 10x lower search bounce rate. Personalized type-ahead search and product recommendations are among the many powerful features that come out of the box with BloomReach Commerce Search.
Find out if BloomReach Commerce Search is right for your business:
Not sure which site search platform is right for you? See how the most popular platforms stack up in areas such as:
Driving conversions – personalization, business user control, data management, error handling, and reporting.
Business needs – total cost of ownership, flexibility, data consumption, multi-lingual/multi-site, and support.
Get our site search platform performance scorecard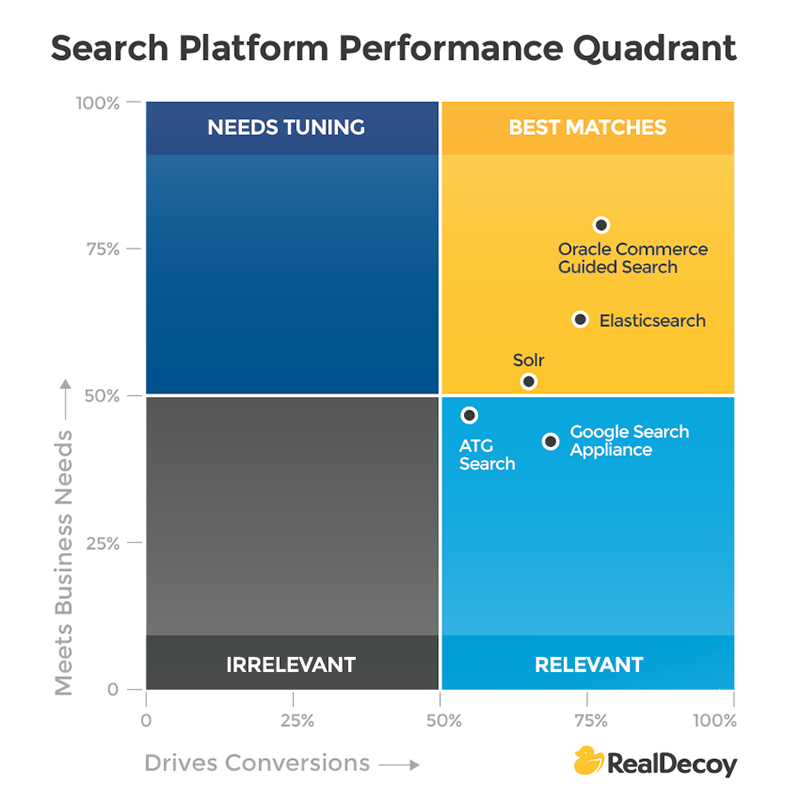 Need help getting buy-in?
Are you ready to give your customers the site search experience they need, but your CEO isn't?
Watch this video for three indisputable benefits of website search that will help you build a bulletproof business case. Visual examples and research-based insight provide the validation you're looking for to gain executive buy-in.