Which e-commerce search platform makes the most sense for your retail business? Read this "Magic Quadrant" style analysis to find out!
Which search platform makes the most sense for your retail business? Inspired by technology research and advisory firm, Gartner, and its "Magic Quadrant" reports, the RealDecoy team set out to analyze and compare search platforms from the perspective of very large midmarket and enterprise-class retailers. We visualized and plotted the results on two main dimensions: the ability to drive conversions and to meet business needs. Read on to see what we found.
More than half of the time consumers spend on a retail site is spent searching and browsing.
And yet, many online retailers, including the world's largest, fail to provide the basic search functionality that will incent consumers to buy more, and to buy more often.
Poor search functionality is a root cause of low conversion rates and average order values. Customers who can't find what they want, when they want it, do not remain customers for long.When it comes to improving the all-important search functionality of your e-commerce platform, there are two options: A costly rip-and-replace to swap one vendor's platform for another, or selecting a search solution that can be integrated with your existing e-commerce investment.
Either way, how do you go about qualifying and selecting a search solution that will drive your bottom line? As the popularity of our previous post comparing Endeca Search and Solr attests, this is a hot topic.
Choosing the fix that makes sense
When we review our own client logs, we see that issues with search invariably relate to personalization, data cleanliness, and the time and cost to keep the system optimized. This accords with the findings of a recent Baymard Institute study.
Baymard found that many of the world's largest e-commerce sites fail on a number of fronts to provide a painless and positive consumer experience. One of the best performers in the Baymard study was RealDecoy client, Office Depot, which placed first in the office supply category, and eighth overall.
That's because Office Depot is typical of many of RealDecoy's customers who relied on some legacy deployment of an ATG or Endeca product, both of which are now part of Oracle Commerce. These customers work with us to chart an upgrade path that avoids a costly rip-and-replace, and achieve the superior search functionality that is crucial to their success with the latest incarnation of the Endeca Search solution, now called Oracle Commerce Guided Search. By sticking with one vendor, Oracle, they are well positioned to upgrade their entire commerce platform over time to the latest version of Oracle Commerce, with minimal disruption to their day-to-day operations.
But not all companies have or want this kind of single-vendor e-commerce solution. According to The Forrester Wave: Digital Experience Delivery Platforms Q3 2014 report, "companies have already made significant investments in digital experience technologies and aren't willing to throw away those investments in favor of a single-vendor solution. These companies want a delivery backbone – based on commerce and/or content functionality that they can easily integrate with other products."This isn't difficult to understand. Many companies frustrated with their current platform's shortcomings will elect to endure the status quo because of the investments they have already made, even if they know a better solution exists.
Here are some of the options to overhaul the search functionality of your e-commerce platform.
The contenders
In our previous post, Endeca Search vs. Solr: Which makes sense for your business, we compared a search option that is proprietary and vendor-supported, with one that is open source.
Endeca Search, now called Oracle Commerce Guided Search, is known for its out-of-the-box toolset that accelerates time to market for improved customer engagement and conversions. The other was Solr, a fast enterprise-search platform from the Apache Lucene project.
Both B2B and B2C companies must weight the pros and cons of trusting their platform to a single vendor, such as Oracle, in return for quicker implementation and enterprise-level support, versus an open-source platform with a large community of support behind it. The latter, however, is more labor-intensive to configure and implement, and may incur higher ongoing support costs.
With this in mind, here are other search contenders:
ATG Search: A legacy platform that is no longer supported. It traditionally suffered from issues with accuracy, relevancy, taxonomy management and data recall. We work with many clients to upgrade a legacy ATG investment with Endeca Search.
Elasticsearch: Like Solr, Elasticsearch is an open-source option based on Apache Lucene. For e-commerce, it is often paired on the data side with Hadoop, an open-source software framework for storage and large-scale processing of data sets. Elasticsearch requires a custom-built interface or third-party tools to support the implementation of a commerce website.
Google Search Appliance: Google bills this as a tool that levers its search engine horsepower. Retailers using Google Search Appliance that are looking for advanced e-commerce experience management capabilities might consider Searchandizer, an e-commerce and merchandizing platform from Groupby. The challenge with any solution from Google is the lack of flexibility in terms of configuration and data management.
RealDecoy's Search Platform Performance Quadrant

At RealDecoy, we're often asked by clients and prospects, especially in the retail sector where conversions are king, which search platform is the best option to drive business goals. This sparked a need for a data visualization that encapsulates the search platform assessment conducted by our team of experts at RealDecoy. We call it the Search Platform Performance Quadrant, inspired by technology research and advisory firm Gartner and its "Magic Quadrant" reports.  We believe it's a familiar format that resonates with readers.
We've analyzed search platforms from the perspective of very large midmarket and enterprise-class retailers that live and die by the extent to which they convert online shoppers. Our analysis is contextualized more for Tier 1 retailers with revenues in excess of $200 million, rather than Tier 2 retailers that earn between $20- and $200-million annually.
The analysis is subjective. It's based on a combination of our own technical experience, anecdotal evidence and research intelligence.
Our quadrant is a tool to help retail business teams evaluate which search platform is most in line with their business goals. We've analyzed the platforms our own clients ask us about most often, recognizing it is not an exhaustive list.
Assessment criteria

We analyzed each search platform on two main dimensions, represented on the vertical axis and horizontal axis of the quadrant.
First, we rated each platform's ability to drive conversions (horizontal axis), based on their overall ability to deliver relevant search results. We reviewed eight categories – everything from business user control to reporting and ease of tuning.
All categories were scored on a 10-point scale (1 = terrible, 10 = excellent), and then standardized into percentages, from 0 to 100 per cent.
Leverages your own data to drive relevancy: the degree to which the search platform is capable of leveraging data attributes to drive relevant search results.
Business user control: the extent to which the search platform provides business users with the control they need to make updates and deliver timely, engaging campaigns.
Catering to personas: the extent to which the search platform enables business users to cater content to unique personas.
Refresh speed: the speed with which the index can be rebuilt or updated.
Data / index management features: the extent to which the search platform allows for incremental indexing and the auto-pruning of data without manual intervention.
Spelling correction: the extent to which the search platform offers comprehensive linguistic functionality (i.e. removes spelling mistakes and/or localized differences).
Reporting: the degree to which the search platform offers business users the ability to monitor user search behavior.
Platform tuning: the ease with which the search platform can be tuned for optimal user experience.
Next, we assessed the ability to meet business needs (vertical axis). Total cost of ownership, experience management and flexibility are among the seven categories we rated to derive scores for this dimension. Once again, these were scored on a 10-point scale (1 = terrible, 10 = excellent) and then standardized into percentages, from 0 to 100 per cent:
Total cost of ownership: a combination of license fee and the cost to operate, maintain and customize the search platform.
Experience management: we considered the ease with which an experience management addition can be applied to a search platform's native search functionality, and the extent to which the platform empowers business users to control search functionality and extend personalization.
Flexibility: the degree to which a search platform can be configured to business needs, and the level of effort involved to make changes.
Data consumption: the extent to which a variety of data sources can be ingested, and the platform's ability to overlay these data sources.
Multilingual/multi-site: the ease with which the search platform can be managed and indexed across multiple languages, brand websites and/or product catalogs to display the most contextually relevant content.
Support / maintenance: the degree to which established lines of support are available.
Hardware footprint: the extent to which a search platform is linearly scalable without extra costs.
How it all shook out
We compiled all raw scores into the tables below, which formed the basis of our data visualization. Our graphic includes four quadrants – Best Matches, Relevant, Needs Tuning and Irrelevant – aptly themed on search relevance. "Best Matches" for our target readership include Endeca Search / Oracle Commerce Guided Search, Elasticsearch and Solr, followed by platforms rated as "Relevant," which include Google Search Appliance and ATG Search.
In our view, the majority of search options evaluated do not offer the flexibility and support typically required by large midmarket and enterprise-class retailers eager to drive improved conversions, customer retention and average order sizes. We believe that honor goes to Endeca Search. These other options can, however, provide a more affordable point of entry for SMEs looking for basic functionality.
At the same time, Endeca Search excels at delivering relevant search results, and generally, across the majority of categories assessed, it performs very well. Out of the box, it is rapid to deploy and easy to configure, complemented by Oracle's enterprise-level support. However, our overall scoring of Endeca Search / Oracle Commerce Guided Search places it just under the 80 per cent mark (a B+).
That's because we've only conducted an analysis of base search platform capabilities. All of the base platforms have room for enhancements, especially in terms of personalization. That is, delivering experiences tailored to the tastes of individual online shoppers.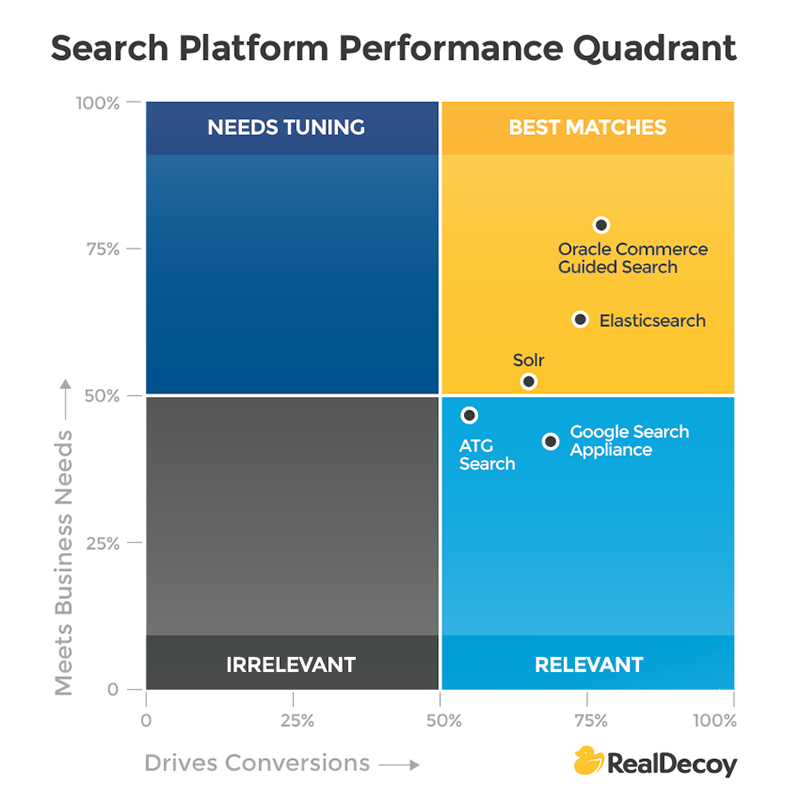 Retailers with base search capability might be asking, "what comes next?" On one hand, there are customizations available in the field you can either purchase or build yourself. On the other, an Oracle upgrade path to include the advanced personalization features offered by Oracle Commerce Experience Manager is worth considering – especially if you're serious about competing against the Amazons of the world.
Our case studies on Acklands-Grainger, American Apparel, and Lands' End outline the results companies can achieve when business users are empowered to orchestrate inspired online buying experiences.
The landscape is always changing

Other search options include SDL Fredhopper and Demandware, a low-cost SaaS option used by some mid-market retailers. Adobe Search&Promote (formerly Mercado) is a vendor-supported platform that is a head-to-head competitor with Oracle Commerce and its search capabilities in many respects. We also heard at OpenWorld 2014 that SAP is planning on bringing to market a search solution for Hybris's e-commerce platform.
That's why this is an organic blog that will continue to evolve with your feedback. We've shared our thoughts on Endeca Search and Solr, and the other options listed in this post that we will analyze in more detail with future posts.

There is no doubt that the world is going green and adopting more sustainable practices… Compounding this is a global imperative for digitization of production.
Read More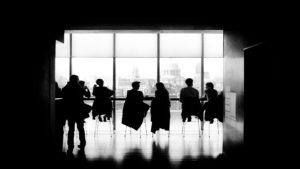 Unlock your big data to discover what will drive more sales
Read More