A new route for website design
OC Transpo has been serving the Ottawa community since it was founded in 1972 by the Ottawa Transportation Commission.
By providing transportation services with over 97.1 million rides in the Ottawa region annually, an important part of the OC Transpo business model is improving the digital experience. On the OC Transpo website, customers are able to navigate bus routes, gain access to scheduling services, stay updated on route cancellations more.
However, many users were experiencing navigational issues and accessibility became a large concern for those who had visual impairments or disability. In order to better serve customers, OC Transpo wanted help improving their website octranspo.com to bridge these gaps.
This is where RealDecoy stepped in.
How do you improve the online experience for 340k users a day?
It was imperative that OC Transpo provided its riders with an optimal digital experience, reflective of their mission to provide the best transportation service to riders. RealDecoy undertook an audit of this website to gain insight into the improvements necessary for this project.
Our Recommendations: 
Restructure Information Architecture (IA)
Enhance User Experience (UX)
Build a Responsive Design (for both Desktop and Mobile)
Improve SEO (Search Engine Optimization)
Optimize Search
Refresh Analytics and Content Management Infrastructure
Improving the User Experience
Each day over 340,000 passengers use OC Transpo Services. The OC Transpo website generates millions of annual visits per year. This project called for a team of qualified experts to head a simplified and responsive website design that would improve navigation, accessibility and overall functionality for users. 
We realized quickly that the goal of this project was to yield a host of benefits for loyal users who choose OC Transpo every day. 
By empowering users to navigate through the OC Transpo website efficiently by improving functionality and design, we have helped reduce support inquiries and enable users to reach their search queries faster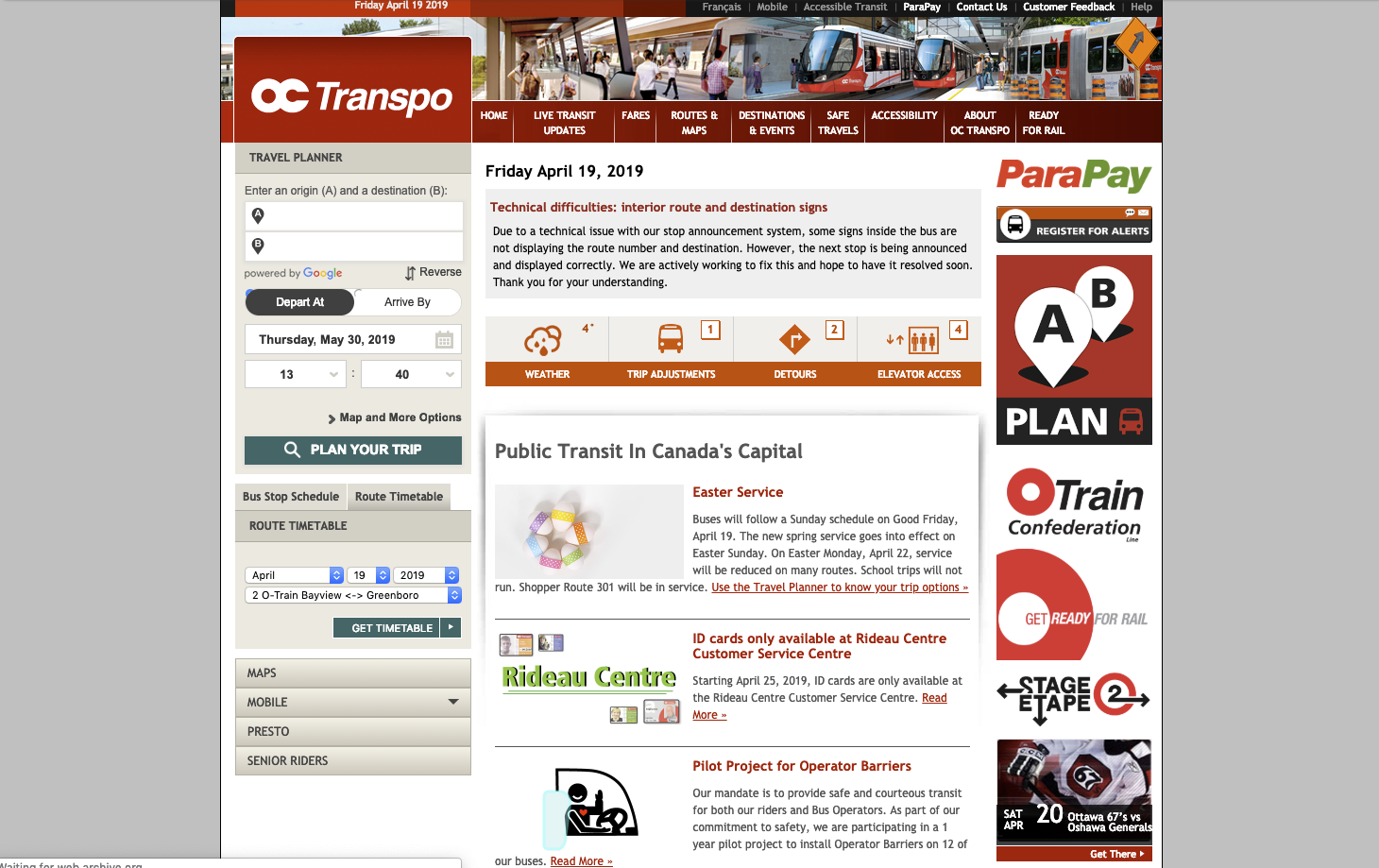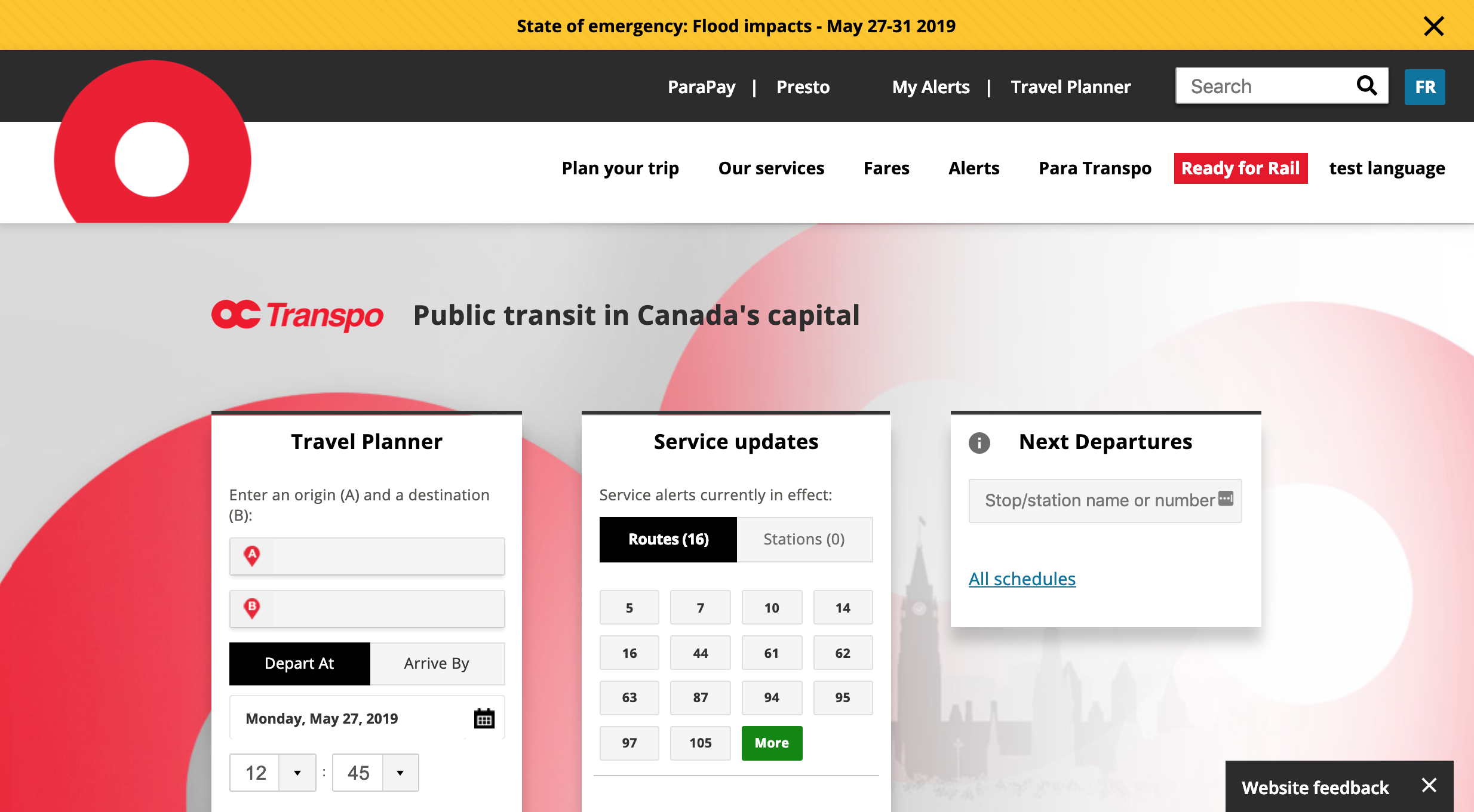 The redesign of The OC Transpo website has most definitely merged navigation functionality and accessibility with a fresh new look and feel. The responsive design has increased our mobile user interaction to 53%, enabling users to check in with OC Transpo services anywhere, anytime. 
Accessibility standards are also met for those with vision impairments or disability. Multi-language content on all pages is now supported. 
In addition to RealDecoy's development and deployment services, we provide ongoing training sessions to OC Transpo staff to ensure that they are able to quickly and efficiently update their website, adhering to the visual style and governance model. This enables OC Transpo to stay on top of cancellations, re-routes, and on-the-fly transportation changes. 
We value our partnership with OC Transpo and the city of Ottawa. We are proud to have been able to work continuously with such a great organization. 
At RealDecoy, we believe in measuring twice and cutting once. We build strong solutions for our customers and even stronger customer relationships. RealDecoy is committed to digital innovation and ready to offer flexible pricing to help attract and build relationships with our loyal customers. 
We also offer specialized services for that span the customer lifecycle – everything from conversion-centered UX design to SEO and conversion analytics. 
Get in touch to book your consultation today! We're happy to help!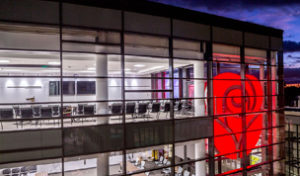 Our "fireside chat" with Carl Lubertozzi from American Greetings at Oracle OpenWorld in San Francisco
Read More