Our "fireside chat" with Carl Lubertozzi from American Greetings at Oracle OpenWorld in San Francisco
Carl Lubertozzi is the Director of Content & Merchandising Systems at American Greetings and RealDecoy's CEO, Richard Isaac discussed how the world's largest greeting card company successfully merged its physical and digital content through Oracle Commerce.
American Greetings uses Oracle Commerce as its foundational core, driving digital customer experiences across many of its key consumer touchpoints. Through Oracle, American Greetings is maximizing its technology investment and providing a higher level of customer engagement. And, overall, delivering a superior customer experience.
RealDecoy has been helping American Greetings implement a multi-website presence by leveraging their ATG (Oracle Commerce) technology. We see the value of a tight integration between Oracle Commerce Experience Manager and Oracle ATG Web Commerce.
RealDecoy's in-depth knowledge of the full suite of ATG capabilities gave American Greetings a clear migration path to the future. And with Oracle Commerce playing a central role in powering multiple brand sites within an overarching omni-channel program, we can now seamlessly maintain the expanded functionality of American Greetings' multi-site environment within the simplicity of the Oracle infrastructure.
That was the core of what Carl and Richard discussed: how American Greetings merged its physical and digital content and solved its multi-site challenge using Oracle Commerce.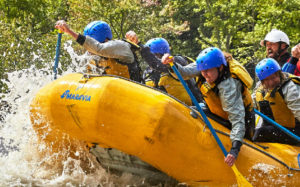 OWL Rafting needed a new digital marketing approach to keep business flowing. Along came RealDecoy—with results double and triple the industry average.
Read More