Prestigious annual award recognizes RealDecoy CEO as leader in Ottawa's dynamic business community
Richard Isaac, President and CEO, RealDecoy, has been named one of the National Capital Region's top 40 professionals under the age of 40. The prestigious annual award, presented in partnership by the Ottawa Business Journal and Ottawa Chamber of Commerce, recognizes young entrepreneurs based on their professional accomplishments and expertise, as well as their community involvement.
Richard was selected for Forty Under 40 from more than 100 finalists – a testament to his remarkable pioneering nature and visionary thinking. He co-founded RealDecoy in 2000 while still pursuing his undergraduate degree, with the goal of creating an innovative web technology services company with annual revenues exceeding $5 million.
Under Richard's leadership, the business has far surpassed those goals. Today, RealDecoy helps B2B and B2C brands maximize their investments in e-commerce, site search and content management. E-commerce analysts and companies topping the Fortune and Internet Retailer lists consider RealDecoy to be an authority on site search.
Richard's unique, hands-on approach to business development ensures that RealDecoy's corporate strategy evolves as required to meet changing market needs. American Greetings, Guess, Harvard Business Publishing, The Home Depot, Lands' End, Marriott, Office Depot and Samsung are among the many brands personalizing digital customer experiences, thanks to engagements with RealDecoy.
A natural leader, Richard understands that not all growth is purely financial. His keen eye for talent and passion for mentorship have been instrumental in developing high-potential graduates into world-class leaders – to the benefit of RealDecoy's 71 employees across Ottawa, Toronto, Atlanta, British Columbia and Jamaica. With his guidance, RealDecoy has become a three-time recipient of Ottawa's Employees' Choice Awards.
Richard is also devoted to giving back to his community. Among many charitable contributions, he supports the non-profit micro-financing organization Kiva, has helped raise more than $2.3 million for charity, and has donated to various local film industry startups and scholarships.
RealDecoy is thrilled to see Richard recognized as a leader in Ottawa's dynamic business community. With this award, he joins the good company of his RealDecoy co-founder Geoff Waddington, who was named to the Forty Under 40 in 2012.
Richard and the other 2016 recipients will be honoured at a gala celebration on June 16 at the Hilton Lac-Leamy and will be profiled in the Ottawa Business Journal June 6 issue.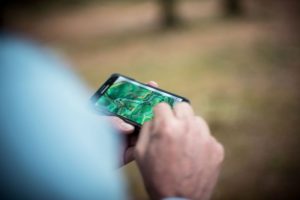 RealDecoy and RealDecoy partner Spatial DNA were at the 2018 Geo Expo in Kingston to talk GIS, business and the next frontier in technology.
Read More