Gain Real Control Over Oracle Commerce. See Real Results.
Trust us like these brands do.


Oracle trusts us to deliver customized, end-to-end implementations of its entire Oracle Commerce suite.
Our expertise spans the core components of Oracle Commerce – Oracle ATG Web Commerce, and Oracle Commerce Guided Search and Experience Manager (formerly Endeca).
Gain corporate agility. Personalize buying experiences. Drive conversions, order sizes and repeat orders. Achieve omnichannel success.
American Greetings: Getting a 'house of brands' in order
World's largest greeting card company with multiple brands

3 home-grown WCMS platforms replaced with one common platform

12 distinct online brands easily managed by IT, business users

Drastic improvements in personalization for richer customer experiences

Merchandising team agility to act fast without relying on IT
Gain Real Control Over Oracle Commerce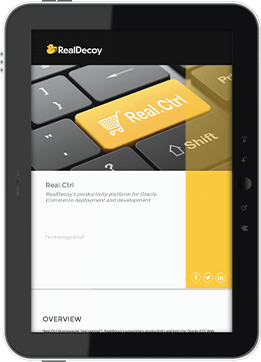 Real.Ctrl (pronounced "Real Control") is RealDecoy's proprietary productivity platform for Oracle Commerce deployment and development. No other solution available on the market today can do what Real.Ctrl can to simplify your build, deployment and operation.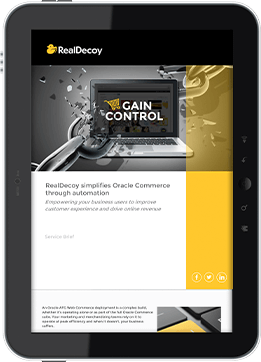 Regenerating failing deployments, version upgrades, new installs and more! Discover the many ways RealDecoy can assist your business with its Oracle Commerce implementation.