Here are 4 key steps you need to prepare your business to migrate to Amazon Web Services
You're probably reading this article because you've decided that it might be time to migrate your on-premise solutions to the cloud.
Everywhere you look, it seems like the most competitive organizations are modernizing their applications, and we understand that this process can be a little overwhelming.  
You may be thinking:  

What platform do I choose?  

How can I ensure that this process is smooth? 

Who can assist us with this transition?  

How do we make sure we're not overspending?  
In a rapidly everchanging ecosystem, modernizing applications is just a part of doing business.
All companies want to do what's best for their businesses and want to ensure that the choices they make now will help them easily transition and pivot seamlessly in the future. The key to success is being prepared, adopting leading technologies and having a plan.   
Choosing the right AWS solution
Perhaps you're looking to migrate to the cloud to increase the productivity of your workforce, or you're simply looking to improve your bottom line by reducing costs or improving operational resilience. However...
Migrating can be an overwhelming and punishing endeavor if you leap without looking.  
As a result, you need to ask yourself if you're ready to migrate and if you have the support you need from your own team and perhaps a team of experts like RealDecoy who can quickly guide you through the process and help you make the smartest choices within this leap. 
AWS has a plethora of services and features that can elevate your solution to new heights. Depending on the state of your current solution, you will require different services and features. With proper planning, support and preparation, migrating to AWS Cloud can be straightforward and very rewarding. 
To start, let's think about what we might want to explore: 
Step 1:  Assess Your Business for AWS
To begin, most organizations will take AWS's CART Assessment (Cloud Adoption Readiness Tool) to identify your readiness and gaps within your solution.  
The CART survey is designed to ask the right questions to help you understand what your concerns should be when moving to AWS Cloud. The CART assessment will help provide insight into how your business operates with your current solution and will allow you to identify your readiness to make the switch to the cloud. 
 The survey consists of 16 questions under 6 categories:
Business 
    Business Rationale
    Business Case
People 
    Executive Sponsorship
    Collaboration
    Change Management
Process 
    Application & Infrastructure Portfolio Management
    Agile Frameworks
    DevOps Planning
Platform 
    AWS Cloud Account Planning
Operations 
    Operations & Responsibilities Alignment
    Future Cloud Operations
    Continuity Planning
Security 
    Operational Cloud Security
    AWS Experience
    Documented Security Policies
    Security Leadership Commitment 
To
 Cloud Adoption Strategy
Now, don't worry if your CART score is low at first or if you have never considered these topics before. The survey will help reveal the nature of your business and how you operate. 
For example, your business may be more IT-focused and has no problem understanding technical work but may not have the organizational rigor to develop consistent workflows.
Vice versa, your business might have detailed operations and processes entirely defined through web consoles, without in-depth or any IT intervention. While both businesses have gaps, they clearly have their strengths. Neither should be considering sacrificing their strengths to address a potential high-level gap. 
After completion, the CART assessment will provide a high-level report on the 6 categories above, with recommendations on categories that need more attention.  
Check out a sample CART Report here
Step 2: Evaluate Your Options

 
Once your CART assessment is complete, you will next want to break down your on-premise solution and match solution components to AWS services. This will consist of auditing your on-premise solutions to discover all the different technologies it uses to fulfill workloads.  
This audit will help you develop your own AWS architecture as you rediscover your solution. As you break your solution down into components, ensure you understand the nature of the workload. Many AWS services can meet specific requirements but that does not necessarily mean it is suitable for your business.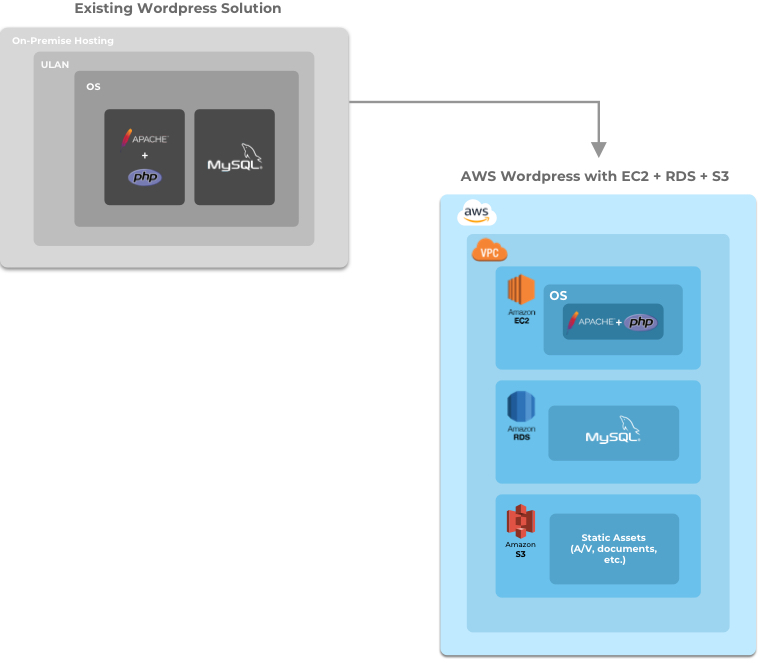 For example, if you're bringing a WordPress solution over to AWS, you could utilize services like EC2 to host your cloud instance, RDS to provide a SQL database and S3 for any static assets to define your WordPress solution.  An IT-focused business may prefer to maintain lower levels of control by directly interacting with the technology stack that powers WordPress.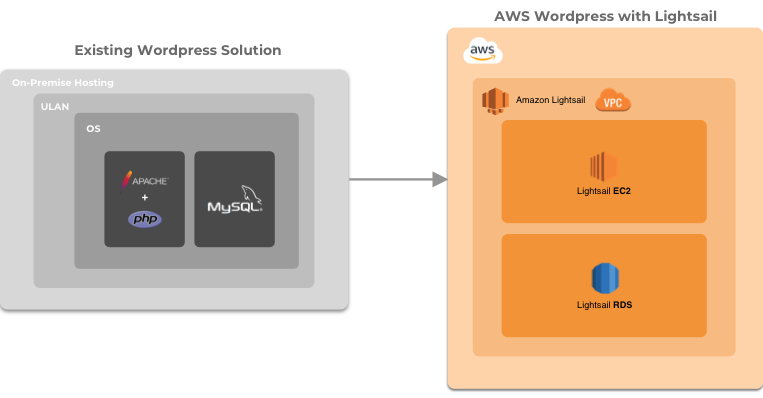 Alternatively, you can utilize Lightsail, an AWS service that can automatically provide and manage solutions, like WordPress. Businesses with less IT capacity may prefer to create a WordPress instance through Lightsail and use built-in controls within the WordPress console to perform migration tasks, never directly interacting with lower-level components. 
There are many ways to achieve the same goal within AWS. It's all about understanding what meets your critical and high priority needs and finding options within AWS.  
Having support from a team like RealDecoy will help you achieve your goals in the most efficient manner.   
Step 3:  Use the AWS Calculator
Once you have an idea of what your AWS solution will look like, you can use the Simple Monthly Calculator to get an estimate of your costs on AWS:
This step is important when determining which services make the most sense for your business, and where you might be able to trim the fat (or unnecessary components) of your unique solution.  
Like the CART survey, the AWS calculator will help you understand what metrics you need from your existing solution. It will also help you discover and explore billing options, like on-demand or reserved instances.   
Step 4: Take the leap and keep testing! 
One of the biggest fears that organizations have when migrating to AWS is the cost and what it would look like for their own unique organization.  We've learned that one of the biggest advantages of AWS services on demand is that organizations can request anything they need when they need them.  
This may seem overwhelming, but most (if not all) of AWS's billing rates are usage-based. This means that you might incur additional costs, but you will only ever be charged for what you use. This gives you the opportunity to try out options that best suit you.  
(Just make sure you terminate or delete your AWS resources once you're done.)  
Final thoughts…  
Migrating to the cloud does not need to be a scary process. Many organizations have successfully migrated to the cloud with minimal support, but many would have opted in for a partner to help guide them along the way.  
Ready to get started? Let RealDecoy help you navigate the world of the cloud migration and help you do things right the first time! We would love to take the leap together. Contact us today!  
The secret to CRO may surprise you. Many online retailers fail to recognize this key to improving ecommerce conversion
Read More